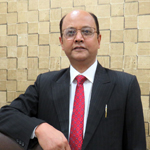 ASHU RATAN KHARE DIRECTOR BUSINESS PLANNING & OPERATIONS
He is B.Com, FCA, ISA (ICAI) and having experience of more than 25 years in the field of Management, Account, Finance, Export & Import.
After having experience in manufacturing and telecommunication industry, he has joined Rock and Storm in the year 2015 and since then he has accomplish various projects and implement various system and policies to run the company in a professional manner.
He is very passionate about the Company's vision and quality development of Human Resources.